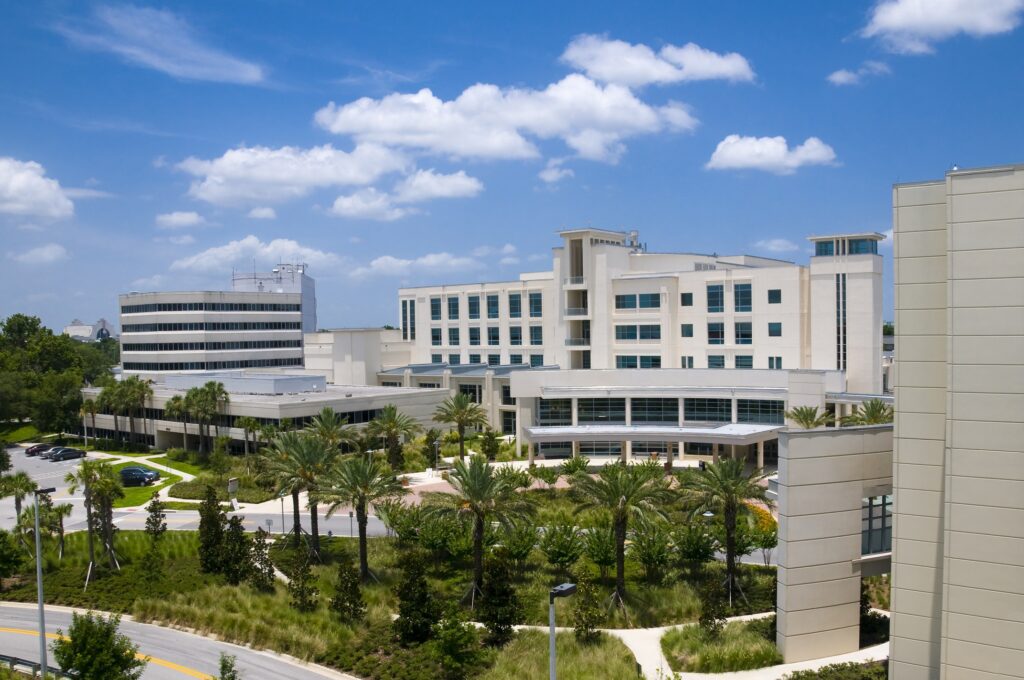 Landscaping Designs for Creating a Welcoming Hospital Atmosphere
Hospital maintenance and landscaping is overlooked by many outside the FM industry, but it is important nonetheless. Despite the obvious importance to safety and operations, it can be argued that the right outside environment can help heal. Plants and trees can have health benefits by reducing stress and improving overall mood. Additionally, hospital staff and visitors can enjoy the benefits of a properly maintained facility as well as creative landscape enhancements.
With spring fast approaching, it is time to start thinking about exterior facility management, including landscape enhancements in the upcoming year. Here are some ideas that hospital facility management staff can incorporate into their landscape maintenance plans.
Welcoming Entrances
As it goes for any business, customers need to be reassured of your professionalism as they enter the building. To ensure these needs are met, hospital facility management can use friendly landscaping around building entrances. Colorful flowers, decorative trees, and lush bushes can create a positive and welcoming atmosphere. This helps add a little calm and beauty to a day at the hospital that patients, visitors, and staff alike will appreciate.
Healing Gardens
Healing gardens are a more contemporary trend, which have been thought to be beneficial in the healing process. To create a healing garden, try adding beds of fragrant flowers such as roses. Lower-maintenance options, such as lavender, are also great.
Extra Greenery
Greenery is a necessary part of setting the right atmosphere for a hospital. Hospital facility management staff should try to feature healthy lawns wherever possible. Large leafy plants are also a good idea, and shade trees can be a perfect addition. Be sure to position these oases where they can be viewed from inside so bedbound patients and employees can enjoy them as well.
Butterfly Gardens
Inviting butterflies can also give your landscape a healing touch. To create butterfly gardens, add plants like Catmint, Clove Pink, or Cornflower (or whichever are native to your area) to encourage these colorful insects to visit. Plus, such flowers tend to be hardy plants that are resistant to disease are also more likely to require less maintenance.
Restful Retreats
For the best landscape design, be sure to tuck away little resting areas throughout your gardens. These offer patients and visitors the opportunity to relax and give staff a much-needed bit of peace during lunch breaks. Courtyards and other common areas should have plenty of seating, potted plants, and flower beds.
Routine Facility Management
Many people assume the maintenance performed outside is directly correlated to the maintenance inside your hospital. Therefore, hospital management should pay close attention to details outside as much as inside. A properly maintained exterior prevents safety concerns, ensures effective operations, and maintains the value of the property assets.
Parking Lot Maintenance
Hospitals constantly have a wide variety of people at them, with many often coming by car or emergency vehicle. Therefore, you must have safe parking lots with visible signage. To ensure your parking lots are perfect, hospital facility management should establish a routine parking lot maintenance program, which can be as simple as removing trash and hazardous debris from the surface area to extensive crack sealing and pothole refilling.
It can be difficult to keep track of all of these issues when maintaining your parking lots. Consider a facility maintenance company who can take care of all aspects of parking lot maintenance.
Benefits Of Working With A Managed Services Provider
Taking charge of maintenance at a hospital is a big job. You need to keep the parking lot orderly so that emergency vehicles can easily enter and exit, and inside there are countless machines that must be kept in top condition. In the midst of the day-to-day chaos of working at a hospital, having to manage the facility's exteriors is another challenging task put on an administrator's plate. What makes matters even worse is when a subcontractor doesn't show up or does shoddy work.
This is why you should consider working with a national exterior facility management company. They can help provide advice regarding landscape enhancements, simplify your business by reducing high operational costs, removing complex maintenance processes, and eliminating unnecessary work orders, and most of all, they will proactively ensure all your exterior maintenance services are completed according to your specifications.