Professional Snow Removal Services Designed For Any Type Of Business
Operating the various aspects of your business can be challenging enough as it is and worrying about the outdoor maintenance of your buildings can make things even more challenging.
If you have multiple properties that need routine maintenance during the winter months, Grounds Control USA can assist you with consolidating the services you require and reducing the stress of contracting them all individually. Our years of experience servicing commercial properties throughout the United States and superior commitment to customer service make us the ideal candidate for your outdoor maintenance needs.
We provide a DAILY weather report for each of your properties including:
Store Location
Anticipated Precipitation
Recommended Services
Expected Trigger Times
Out of Scope work suggestions
We Offer Flexible Pricing Models Designed For Your Specific Business Needs:
Per Application - Ideal for a small box portfolio in a northern or southern footprint where each service delivered has a fixed price.
Per Event - Based on a fixed cost for specific sized storms - works in both northern and southern climates.
Seasonal - Ideal in areas with larger and consistent snowfall totals for more budget control.
Let Us Take Care Of Your Commercial Snow Removal Needs With One Easy Call.
Our team is committed to bringing you the highest-quality service possible. With our Snow and Ice Removal Services, you never need to worry about inclement weather impacting your business again.
Commercial Snow Removal Services
Regardless of the season, we'll ensure that your properties receive the services that you need. The winter requires, perhaps the most attention of all – snow and ice removal and other preventative measures. Businesses in nearly every region of the country are impacted by some kind of winter weather. Those rough months can have a big impact on your company's ability to operate successfully. The inclement conditions may prevent people from going shopping, causing a dip in your profits. In the worst-case scenario, it could cause accidents or damage that you're liable for.
Our snow and ice removal services will efficiently keep your business and property safe for your customers, clients, vendors, and employees, allowing you to get on with business as usual.
Servicing all 50 united states
Snow And Ice Management Services
Remediating snow and ice quickly and effectively is imperative to keeping your operations running smoothly during the winter months. Failing to do so during periods of inclement weather could result in a number of negative outcomes.
Failing to plow your sidewalks and parking lots properly could result in damage or prevent vendors, customers, clients, and employees from accessing the building or property.
Commercial Sidewalk Shoveling Services
Have you ever had to shovel 2 miles of side walk? This is another critical aspect of snow and ice removal services. Keeping your property's sidewalks clear sends the message that you care about the safety and wellbeing of the people your business interacts with.
Find our how Ground Controls USA can take care of your sidewalks, so your visitors will find it safe and easily accessible, allowing them to move about your property confidently.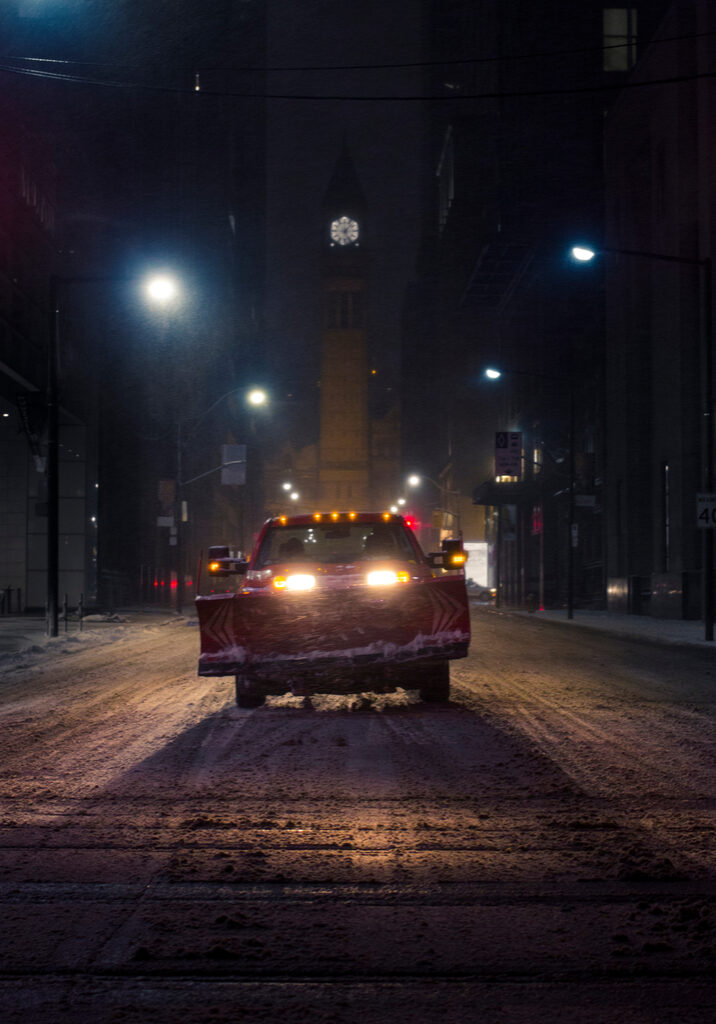 What is included in Our Commercial Ice Control and Removal Plans?
Throughout the country, winters can be quite brutal. But this fact shouldn't affect your company's business or, more perhaps more importantly, the safety of your customers, clients and employees. We'll work tirelessly to provide the best service possible to meet your requirements and budget.  We'll gladly take on any project, from expansive business parks to brick-and-mortar restaurants.  We are committed to delivering exceptional service.
Here are just a few of the services that we offer:
Snow Hauling:  We know that busy winters can often result in snow gradually building up to large unsightly mounds that take up large swathes of your property. That's why we provide snow-hauling services to clear your lots so that customers can park and walk freely.
Deicing Treatments: Freezing temperatures can quickly turn a winter wonderland into a frozen nightmare, often overnight. An employee or customer being injured can lead not only to a guilty conscience but also a nasty lawsuit. We will arrange the quick and effective application of rock salt and other fast-acting devices to clear up your parking lots and walkways.
Snow Plowing and Shoveling: When the next big snowstorm hits your area, don't let it affect your business hours of operation or accessibility. Our crews will plow your parking lot and other open spaces and shovel your walkways and sidewalks to ensure that everyone can keep moving freely and safely.
24/7 Emergency Service: Bad weather can often leave you with little time to react and prepare effectively. Don't get left scrambling for the best option in the final hour. Our experienced staff will offer their expertise to help you get the job done right.
You Can Trust Grounds Control USA With All Your Commercial Snow And Ice Removal Services
Don't let miscommunication or unreliable service leave your business out in the cold. We're proud to be your go-to-provider for commercial ice control services and offer years of successful experience. Contact us today to discuss your best course of action and we'll start developing a comprehensive plan together today.
Our team at Grounds Control USA has more than 30 years of industry experience with the expertise and commitment to handle every aspect of your grounds management needs. We will give your properties the best possible care, no matter how complicated the situation may be.

Clear Communication
We understand communication before, during, and after an event is extremely important for our clients.

Proactive Management
Our dedicated staff is always working to track weather events and alert you when our snow removal services are needed.

Peace Of Mind
You want the peace of mind that your property is going to be cleared of snow and ice with a sense of urgency.
Ready to Get Started?
Regardless of your property size or how many locations you have, we strategize to remove snow and ice, ensuring your business remains accessible and operable in any weather condition.