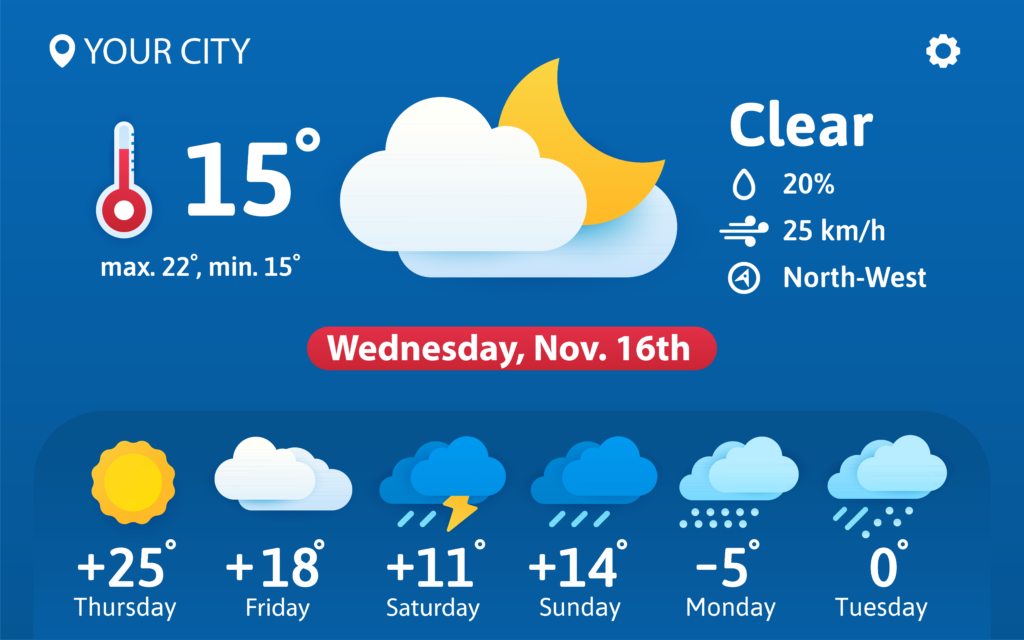 US Winter 2023 Outlook: Snow on the Horizon or Warm Days Ahead?
La Niña, the fierce sister to the wet and wild El Niño, will be making her appearance for the third year straight in 2022. What does this mean for you? Ultimately, La Niña's effects will depend mainly on where you live. Many parts of the country will see heavy rain or snow in the winter of 2022/2023, while other regions will experience warmer, drier winters than before.
Take a look at the 2023 winter forecast to find out what this weather phenomenon has in store for you.
2023 Winter Forecast: The Basics
According to the National Oceanic and Atmospheric Administration's weather supercomputers, La Niña will cause a clear split between northern and southern sections of the country, with little happy medium between the two. As a result, many citizens will experience the coldest winter in years, while others might sail through, feeling as if fall never ended.
Temperature Predictions
Temperatures across the U.S. will vary significantly. Western Maine, the Eastern Great Lakes, and much of the Central regions of the U.S. have an equal chance of fluctuating temperatures. Below, you'll find a breakdown of the 2023 winter forecast for regions most likely to encounter deviations from the average.
Warmer Than Average
Many areas of the country should prepare for warmer-than-average temperatures. Specifically, there is a 40 to 50 percent chance that temperatures will rise above average for Alaska's west coast, the Southern Plains, the Gulf and southern Atlantic coasts, and large swaths of the Southwest.
Similarly, the Eastern Seaboard, Atlantic Corridor, and portions of western Alaska have a 33 to 40 percent chance of seeing higher-than-average winter temperatures. This means things such as seasonal plants and insects might stick around longer than in years past.
Colder Than Average
The Alaska panhandle, Great Lakes region, Pacific Northwest, Upper Midwest, and Intermountain Range will find their 2023 winter chillier than average. In these regions, there is a 33 to 80 percent chance of temperatures that fall below the annual average.
If you're in any of the regions mentioned above, you should begin preparing for 2023's winter in the fall (however, this should apply every year). Although there's no guarantee you'll see temperatures dip to dangerous levels, you should have a working generator and emergency plan in case your region is struck by extreme cold.
Precipitation Expectations
Perhaps more concerning than the cold is the potential for increased precipitation across the country. While some areas, including the Northeastern coast, Upper Midwest, and Central U.S., have an equal chance of deviating from the average, here are a few areas you can confidently expect to fluctuate.
Wetter Than Average
Citizens along the Canadian border and in New England, the lower Great Lakes, Western Alaska, and Pacific Northwest should anticipate a wetter-than-average winter in 2023. The severe temperature drops in these regions will bring increased snow and ice, so prepare your snow thrower and schedule snow and ice removal services.
In addition, Hawaii has a 70 to 80 percent chance of seeing a rainy winter for the record books. This increase will cause the rainy season to expand far into the winter. While you should still see sunny days in the South Pacific, they might be surrounded by more rain than usual.
Drier Than Average
The 2023 winter forecast indicates below-average precipitation for most of the southern U.S. As a result, dry conditions will affect the Gulf Coast, the Southern Plains, the Southeast, and the Southern half of California. While citizens in these areas might not have to worry about frequent rain or snowstorms, you should prepare for potential drought conditions in some areas.
Drought Risks
Unfortunately, according to NOAA, drought risks are high in many parts of the country for 2023's winter months. Large sections of the Great Basin, Great Plains, Midwest, and West Coast will face worsening drought conditions throughout the season.
In addition, drought conditions continue to develop in areas of the Southeast and much of the Gulf Coast. The only sections of the country currently not at risk are the Northeast and Pacific Northwest. Be sure to look into ways to prepare for drought in your region.
Final Thoughts: 2022 and 2023 Winter Forecast
The 2023 winter forecast highlights a stark split between the northern and southern halves of the U.S. Citizens should take heed of expected temperature and precipitation fluctuations and prepare their property accordingly. To ensure your property is ready for the winter months ahead, contact us to find out how we can help.