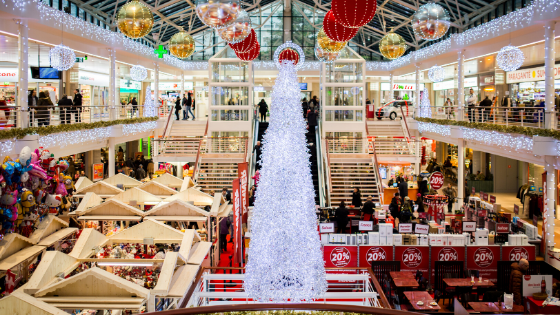 Preparing Shopping Malls & Shopping Centres for the Holidays
Shopping malls and shopping centers will soon be festooned with twinkling lights, glittering baubles, and random employees dressed as grumpy Christmas elves. A carefree holiday rush is all about proper planning so most of the major preparations should be well under way.
Consider implementing the following tips to help retail shopping malls sparkle and shine during the busiest season of the year:
Preparing Shopping Malls & Shopping Centres for the Holidays
Start early: Take seasonal decorations out of storage and ensure they're still in great shape. Also, scan the previous year's sales reports for popular purchases and order decorations and inventory, as needed, so everything will be decorated and fully stocked before the holiday shopping begins.
Clean up: Don't be liable for a shopper's slip and fall! Have the shopping mall's landscape maintenance crew scan the grounds and parking lots so they're clean and clear and prepared for winter. Have them assess any damages, make repairs, install signs, and repaint lines and traffic directions where needed.
Decorate: Have the landscaping crew trim hedges, mulch flower beds, remove tree debris, and cut the property so a clean slate is available for the holiday decorations. Keep curb appeal, pictures with Santa, and the shopping mall's show stopping centerpieces in mind as decorations are dispersed along the grounds.
Staff Up: Hire plenty of staff for the stores in the shopping malls who can work the registers, wrap presents, and help shoppers as needed. Be sure to have maintenance staff and lawn care crews on call for weekly or emergent snow and ice removal or storm restoration.
Have a Plan: Train permanent and seasonal workers on all shopping mall rules, regulations, and individual store policies. Make sure to practice evacuation and safety drills in case of emergencies and ensure daily weather reporting is provided with the shopping mall's snow removal contracts so the center will be prepared for winter storms.
Grounds Control USA considers your property our priority and want you to leaf the work to us! Headquartered in Charleston, SC, we operate in both the USA and Canada and are available 24/7/365 to handle your exterior facility management needs on a local, regional and national level.
Please feel free to contact us or give us a call at 855.GOGCUSA (855.464.2872) or email us at [email protected]