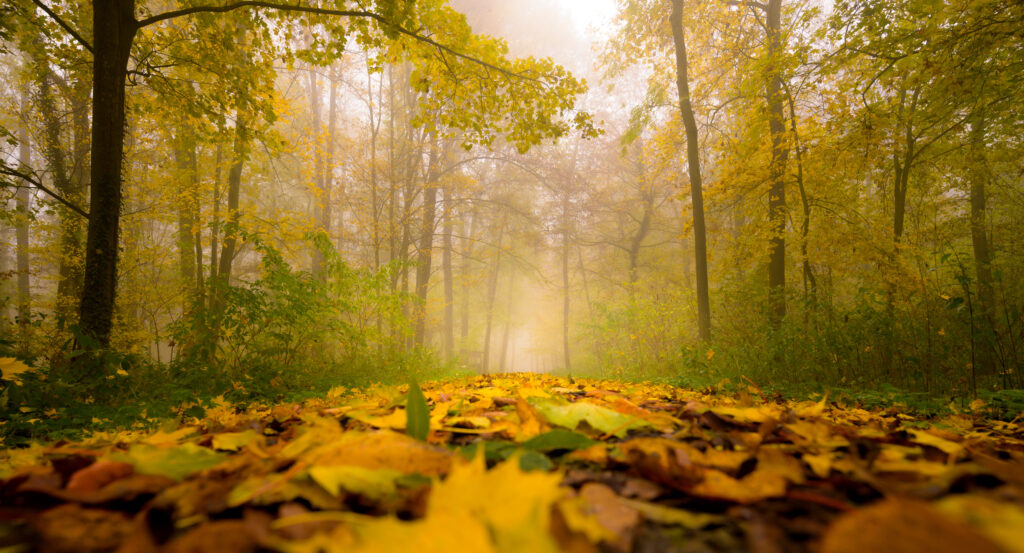 America's 2022 Fall Forecast
After enduring a summer of record-high temperatures and unseasonably dry weather, many people are looking forward to the change of season to bring some relief. 100-degree temperatures tormented much of the country this summer, with some of the longest heat waves in decades. Unusually dry weather has caused drought conditions in every region. 
Astrologically autumn does not begin until September 22 but meteorologists define 2022 fall as September 1 through November 30. This is good news for fall lovers and more closely aligns with what we all think of as fall: a new school year, football season and pumpkin-spiced everything.
What does the 2022 fall forecast have in store for the U.S.? Will the fall months finally bring relief from the heat and drought that has plagued most of the country? Will there be snow, and will the wildfires stop? The answers to these questions depend on which part of the country you are in.
Northeast & Midwest: Warm
September will not bring change for the Northeast and Midwest regions; warm and dry weather will make it feel like it's still August. Drought has dug into these regions throughout the summer, and this will continue; summertime warmth will continue as well.
October will finally bring rain. However, severe weather threats will emerge, since this is the peak month for severe thunderstorms, tropical storms and tornadoes. Chillier air will bring the fall colors everyone is waiting for, but it will happen a bit later than usual. The wait will be worth it, and this season will be more vibrant than ever.
November will bring frost one to two weeks earlier than usual. Around the same time the interior Northeast and parts of the Appalachians may also see the first snow of the season.
Southeast: Wet
The 2022 fall forecast for the Southeast is rain, rain, and more rain. Abnormally warm water in the Gulf of Mexico, a dominant La Nina wind pattern and a weakened Bermuda high will all lead to tropical storm systems that will affect the region.
Predictions are for up to 20 named tropical storms this season, including up to eight hurricanes. Six hurricanes could potentially make landfall. Most will be along the Atlantic coast, but there is a possibility for one big system to enter the Gulf of Mexico and make landfall in Louisiana or Texas.
Warm, moist air rising off the Gulf of Mexico could also spell trouble for other areas of the Southeast. A clash with cold fronts could lead to severe thunderstorms over Tennessee, Alabama, North Carolina, Indiana, Ohio and Kentucky.
Although autumn will be potentially severe, it should erase all signs of drought in the Southeast.
The Great Plains: Drought Continues
While the 2022 fall forecast brings rain that will ease drought conditions in the Northeast, Midwest and Southeast, the same is not true for the central U.S.
The North American monsoon will bring rain in September but will focus on Arizona, New Mexico, Utah and Colorado. Triple-digit heat will continue in Texas, prolonging drought conditions and keeping energy demands high throughout the month.
October has the potential for thunderstorm activity, delivering much-needed rain to Kansas, Oklahoma, Missouri and Arkansas; however, not enough is expected to relieve the extreme drought of the region. Additionally, higher than average temperatures remain, delaying the first frost by weeks.
These conditions spell trouble for the region, and crops and cattle will be lost before the heat breaks. Expect even higher prices at the grocery store as America's heartland struggles with this extreme weather.
West: Wildfires
The West has also been struggling with high heat and drought, setting the stage for a rampant wildfire season. Reservoirs throughout the West are at record lows, and considerable precipitation will be necessary to break the drought. The 2022 fall forecast has mixed news for this region.
September will bring thunderstorms that will potentially do more harm than good. Short rainfall won't provide enough moisture, and lightning strikes could spark fires that could blaze out of control in the parched region. This fire season is likely to focus on different areas than earlier this year, as predictions point to Southern California as facing the most elevated risk. Autumn's Santa Ana winds could also contribute, helping the fire spread.
October will bring rain to the Pacific Northwest and should start alleviating drought conditions there. Storms will end fire season threats in Washington, Oregon and Idaho. Early snow in October and November is also good news for skiers who are looking forward to hitting the slopes.
Across America: Property Care
Across America, property care is a primary concern.Relying on a national exterior facility management company to handle all of your exterior concerns can provide peace of mind during every season. Be sure to choose a company with extensive experience and a nationwide network of providers so you can turn over this responsibility comfortably. Taking the day-to-day management of your exteriors off your plate allows you to focus on running your business.