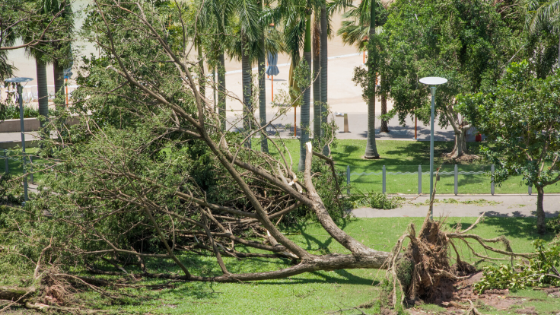 Storm Restoration: Debris & Water Removal Services
The snow storm of 2018 and the recent Hurricane Florence fiasco goes to show that Mother Nature is completely unpredictable. Strong winds, storm surges, and unending precipitation can wreak havoc on your building's landscape. Be sure to play it safe and keep commercial debris and water removal services on standby when the worst case scenario hits.
Although we work hard to maintain our client's grounds, fallen trees and flash flooding will always cause chaos during natural catastrophes.
Storms and hurricanes can be devastating to businesses, and we are fully equipped to offer fast, safe, and effective clean up services so we can pick your company back off the ground.
Debris Removal Services
Tree Debris removal can be extensive and tiresome work. Invest wisely and hire professionals who will go through the proper channels to swiftly sweep your grounds of these potential hazards:
Uprooted trees
Broken limbs
Split branches
Rotten stumps
Decaying leaves
Water Removal Services
Did you know heavy rains, flash flooding, and storm surges are actually the most dangerous part of hurricanes, tornadoes, and thunderstorms? Water may give us life, but it also kills more people than all of those natural disasters combined!
Water Removal Services from your commercial property can be a complex undertaking, and safety precautions must be taken before any water can be removed from your parking lot.
Don't risk your health and safety by running the risk of coming into contact with live power lines, hidden debris, leaking gas lines and bacteria. Once state and county officials have given the all clear to return, send out specialists who can assess the situation and remove standing water quickly and efficiently.
Parking Lot Maintenance
Once the water is removed from the grounds, parking lot maintenance becomes our priority. We will thoroughly inspect the asphalt for cracks and damage, repair the problems, repaint traffic guides, and sealcoat the area to safeguard the longevity of your property.
Having certified, licensed, and bonded removal services for your company is extremely important after a storm. Having been in business for 30 years, we're known to help clients improve the quality of their landscapes, improve the efficiency of the service offerings and save them money when their business most needs it.
Grounds Control USA considers your property our priority and want you to leaf the work to us! Headquartered in Charleston, SC, we are available 24/7/365 to handle your parking lot maintenance needs on a local, regional and national level. Please feel free to contact us or give us a call at 855.GOGCUSA (855.464.2872) or email us at info@groundscontrolusa.com
Find us on Facebook and LinkedIn.